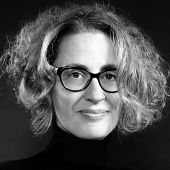 Emmanuelle Parmentier
Principal, Senior Executive Coach
Paris, France
Get in touch
Of French and American nationality, Emmanuelle has worked over 20 years as an HR executive within global corporate environments with a continuous focus on the maximization of team performance through cultural diversity.
During the course of her career with the firms General Electric, Pechiney, Cisco Systems and LVMH, she has contributed to several strategic reorganizations and provided the framework for leading effective change.
As a certified coach (Transformance – Vincent Lenhardt), Emmanuelle now serves clients from all sectors (luxury goods, consumer goods, IT, financial services) in the areas of leadership development and team building in international settings. Using tools originating from transactional analysis, process communication and non-violent communication models, she seeks to support individuals and teams in their ability to access their unique potential.
Emmanuelle is a graduate of the Institut d'Etudes Politiques de Paris and of the Paris-Dauphine University.