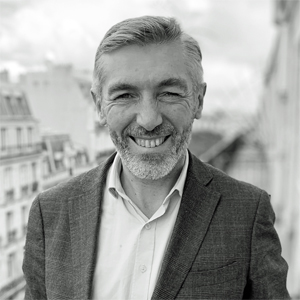 Olivier Pelleau
Founder, Managing Partner, Senior Executive Coach
Paris, France
Get in touch
Act as a man of thought and think as a man of action.
Co-founder and Managing Partner of Turningpoint, Olivier advises managers seeking to establish a leadership culture and set up leadership development programmes. He also coaches executives during transitional phases.
After working for the Ministry of Foreign Affairs and lectured in philosophy, he became a strategic management consultant at Arthur Andersen, Ernst & Young and Capgemini Consulting. Olivier also carries out research and gives lectures in philosophy to managers and potentials in engineering schools, management clubs and at various colloquiums (UNESCO, etc.).
Having studied philosophy at both the Sorbonne and Sciences Po in Paris, he embarked upon a thesis on management decision making at the EHESS school of social sciences. Trained in Actor Strategies (Crozier) and Sociodynamics (Fauvet), he is also MBTI, TMP and Socio-Styles accredited, as well as trained in coaching at the International Coaching Institute in Geneva.
He is also director of the European Federation of Ethics and Sustainable Development and runs a number of educational and training associations.