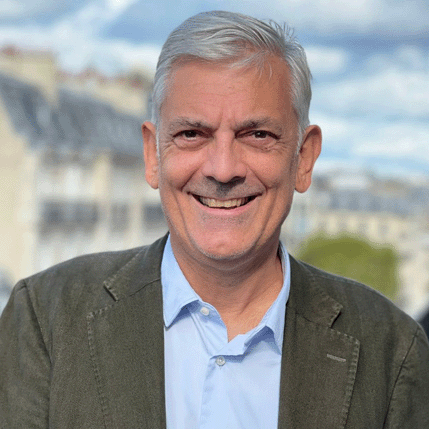 Marc
Gosselin
Principal, Senior Executive Coach
Paris, France
🇫🇷

French

🇬🇧

English

🇮🇹

Italian
Get in touch
Coaching Experience
Certified coach by HEC (2018)​
Internal coach at Danone Group (since 2005)​
Systemicapproach, Appreciative Inquiry
Talents Profile, StrengthScope​
Professional background
GM Danone Italy, and Greece
VP Africa/Middle-East/Inda, Fresh Products, Danone Groupe
VP Social Business, Danone Group
GM Danone UK and Ireland
Personal commitments
Member of the Executive Committee of the Fondation des Bernardins (Paris)
Education
Agro-Paris-Tech, agricultural engineer
Marc helps leaders escape the hustle and bustle of the world and gain a deeper understanding of themselves. In so doing, he enables them to develop more productive relationships with the people surrounding them, and to act with greater impact.
Impose your luck, embrace your happiness and go toward your risks: by looking at you, they'll get used to it.
Professional background
After starting his career with Pernod-Ricard, he joined the Danone group for a long career spanning 31 years, 18 of which were spent abroad, in both developed and emerging countries. He held a variety of positions in marketing, sales, R&D and, since 2000, as General Manager of subsidiaries and then Vice-President of the Africa/Middle East/India zone.
Passionate about human development, Marc became a true business partner for HR and contributed to the elaboration of leadership development programs for the Group's top executives. As an in-house coach, he accompanied numerous General Managers as they onboarded their new appointments, as well as women directors through their career development challenges. Last but not least, he is deeply committed to common good issues and social economy and headed the Social Business innovation unit reporting directly to Emmanuel Faber.
Coaching expertise
In 2005, at the request of one of his former directors who had been appointed Managing Director, Marc began his coaching experience and discovered the power of the coaching posture. He has been developing it ever since, even during his role as an operational manager. In 2018, he decided to make it his exclusive profession and rounded off his expertise by returning to the HEC business school. His individual and team coaching sessions often focus on developing emotional and relational intelligence as well as building trust. As a coach, he taps into the wealth of personal experiences, situations and encounters that have punctuated his career as a manager. His interest in the common good has led him to work with senior civil servants through Turningpoint programs. ​
What we say about Marc Gosselin at Turningpoint
Marc is enthusiastic, generous, curious and creative. Passionate about the fruitfulness of an intimate coaching relationship, he puts his dual experience as an international executive and coach at the service of his coachees, tailoring his guidance to their specific needs.