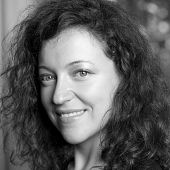 Guila Clara Kessous
Senior Executive Coach
Paris, France
Get in touch
For over 10 years, Guila Clara has accompanied board members, senior executives and managers in their leadership responsibilities and has assisted them in the development of effective and innovative management strategies. She is called upon regularly by international agencies such as UNESCO or the UN to intervene in the context of various intercultural projects.
Guila Clara holds an Executive MBA from ESSEC Business School, a PhD from Boston University, and a Post-Doc from Harvard University. She has created a tailor-made approach targeting established and emerging leaders to ensure their optimal performance in a rapidly evolving global environment.
A recognized actor and producer in the performing arts, Guila Clara has a particular interest in developing public speaking and performance skills in others. She regularly intervenes in order to increase group performance and optimize individual and collective potential.
She holds a certification in coaching development and facilitation tools by Harvard University. She has combined her experience in fields such as positive psychology (Tal Ben Shahar), Leadership and Negotiation (William L. Ury) and Executive Communication Skills (Marjorie North). She is currently experimenting with the concept of « management creativity » from Augusto Boal's theories and has a specialization in CSR and Ethics in the business world (including her studies in ethics pursued under the direction of Nobel Peace Prize winner Elie Wiesel).
Guila Clara is an active member of the Harvard University affiliated Institute of coaching. She was recently awarded the title of Officer from the Order of Arts and Literature by the French Minister of Culture.