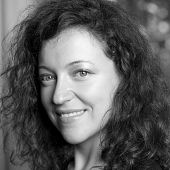 Guila Clara Kessous
Senior Executive Coach
Paris, France
Get in touch
A member of the Harvard University affiliated Institute of coaching, Guila Clara Kessous has been coaching executive committees, senior executives and managers for more than 15 years in the context of leading change, taking over a position and developing strategy. She has coached more than 500 leaders in France and abroad in both private and public sectors on positive leadership issues.​
Her current research focuses on Key Behavioral Indicators (KBIs) related to "strengthening the humanitarian system of the company". Women's role and their relationship to leadership is also an expertise that she develops and embodies as a Rising Talent of the Women's Forum for the Economy and Society. She has created her own methodology and offers dedicated coaching on the notion of "subtle skills that aim at fostering leadership from the heart" ("Heartificial intelligence"). She has published an article on this subject in the Harvard Business Review. For her work in coaching organizations, she received the "International Thought Leader of Distinction" award 2021 by the prestigious MEECO Leadership Group. ​
Guila Clara Kessous trained at the Conservatoire d'Art Dramatique as an actor and pursued an Executive MBA from ESSEC Business School to use the techniques of theatrical art to enhance the impact of communication. Following a PhD at Boston University under the direction of Nobel Peace Prize winner Elie Wiesel, she was invited to teach at Harvard University. There she met Professor Tal Ben Shahar, a specialist in positive psychology, and Professor William Ury, a specialist in negotiation, who encouraged her to become a coach using role-playing techniques. She became a certified ICC coach with a degree in principled negotiation and executive communication from Harvard University. She received the title of Associate of the Emotional Intelligence Academy while training in the techniques of Professor Paul Ekman. Guila Clara Kessous is also certified for assessments such as Leadership Effectiveness Analysis (MRG), Hogan (Authentic Talent) and Springboard (Leadership for Women).​
Guila Clara Kessous is also a UNESCO Artist for Peace and Ambassador for Peace, using art to help vulnerable populations (DU Art Therapy, Paris Descartes/Ste Anne). She animates, moderates and mediates the International Women's Rights Day at UNESCO under the patronage of Nobel Prize winner Dr. Mukwege. She was named Officer of Arts and Letters by the Ministry of Culture. For her humanitarian work Guila Clara received the Trofemina International Woman Award in 2015 and the Global Gift Women Empowerment Award from actress Eva Longoria in 2020.​