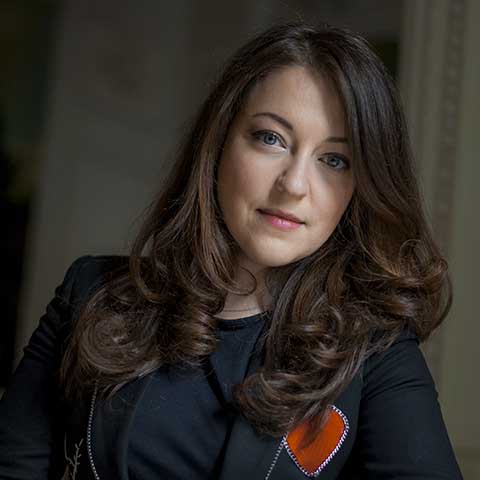 Guila Clara
Kessous
Senior Executive Coach
Paris, France
Get in touch
Coaching Experience
Certified coach ICC from Harvard University
Leadership Effectiveness Analysis (MRG)
Hogan (Authentic Talent),
Springboard Public speaking expert (Women Leadership)
Professional background
Visiting Professor at Harvard University
Stage director
Researcher (Key Behavior Indicators)
Speaker (feminine leadership, diversity/mixity, emotional intelligence, collaboration…)
Personal commitments
Officer of the Order of Arts and Letters
UNESCO Artist for Peace
Education
Boston University, Double Ph.
ESSEC, Executive MBA
Harvard University in negotiation and communication
A committed and multi-talented public figure, Guila Clara guides board-members, executives and managers through change management projects, onboarding processes and with strategy development.
The only thing we are given is the possibility of choosing what we want to become.

Professional background
A graduate of Harvard University in Interest-Based Negotiation and Executive Communication, she became an Associate of the Emotional Intelligence Academy while training in the techniques of Prof. Paul Ekman.
Her research focuses on Key Behavioral Indicators (KBIs) designed to "strengthen the company's humanitarian system". The place of women and their relationship to leadership is also one of her areas of expertise, which she is developing and embodying as Rising Talent of the Women's Forum for the Economy and Society. She has created her own methodology and offers dedicated coaching on the notion of "subtle skills aimed at fostering leadership from the heart" ("Heartificial intelligence"). For her work in organizational coaching, she received the "International Thought Leader of Distinction" award 2021 from the prestigious MEECO Leadership Institute.
Coaching expertise
Guila completed an Executive MBA at ESSEC Business School to apply the theatrical techniques she learned at the Conservatoire d'Art Dramatique to enhance the impact of communication. Following a PhD at Boston University under the direction of Nobel Peace Prize winner Elie Wiesel, she was invited to teach at Harvard University. Guila draws on her fascinating background to accompany individuals and teams as an executive coach.
She is also a UNESCO Artist for Peace and Ambassador for Peace. She hosts, moderates and mediates UNESCO's International Women's Rights Day under the patronage of Nobel Prize winner Dr. Mukwege. She has been named Officer of the Order of Arts and Letters by the French Ministry of Culture.​
What we say about Guila Clara Kessous at Turningpoint
A visionary, Guila embodies the causes she defends and doesn't hesitate to carry her message with conviction to help those around her. Her radiant personality is a true inspiration to those around her.