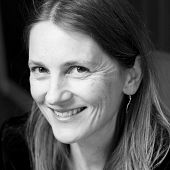 Donatienne du Jeu
Senior Executive Coach
Paris, France
Get in touch
Donatienne du Jeu is a coach expert in public speaking who helps leaders to be strong and authentic, and to connect truthfully with others.
Donatienne du Jeu has a high degree in Modern Literature and taught literature while pursuing a career as an opera singer and author of original shows performed in various Parisian theatres.
In 2014, she became a consultant in communication strategy (in an agency and then as a freelancer) and a coach for public speaking, finding inspiration in her experience as an opera singer and actress.
Since 2021, she has worked as a coach to accompany leaders in their professional journey and help them to take their rightful place, in connection with others.
Like many coaches, Donatienne bases her work on her rich life experience. First of all, artistic creation and stage experience play a central role in her coaching, through a spirit of playfulness and a search for accuracy at all levels.
Furthermore, the experience of radical professional changes guided by a quest for meaning gave her a taste for helping everyone to find their true place.
Finally, her love of culture and words remains an inexhaustible source of inspiration and creativity for all those she coaches.
Donatienne has a talent for putting leaders at ease and allowing them to free themselves of their obstacles in a joyful and professional atmosphere.