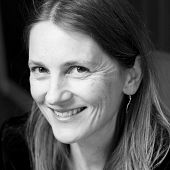 Donatienne du Jeu
Senior Executive Coach
Paris, France
Get in touch
Donatienne is a communications consultant and a specialist in public speaking. She is an expert in words and has a passion for transmission.
Agregated in French language and modern littérature at 23, she spent the first part of her professional life in secondary and higher education, at the French University College of Moscow. At the same time, she had a career as an opera singer and directed and produced her own shows in various Parisian theaters.
Since 2014, she has worked as a consultant in communication strategy, an expertise she developed within the Giotto agency between 2016 and 2018. At the same time, she attended a program to become a public speaking coach, formalizing an experience as a singer and actress of nearly 20 years. Inspired by the techniques of the School of Oratory Art, she offers different tools integrating body work, voice work and message perfection.
She works with executives of large companies to help develop their public speaking skills, individually or in group seminars, promoting creativity and pleasure. Her work as a communication consultant for companies feeds her appreciation of business challenges and her vision of clear and effective communication.
She also runs public speaking workshops at ESCP and the Institut Catholique de Paris, and is a web columnist on "tech" subjects. She still performs regularly on stage, in lyrical repertoires or from French songs.