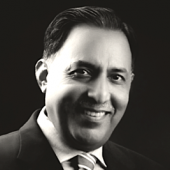 Pramod Gothi
Senior Executive Coach
Mumbai, India
Get in touch
Pramod is a certified and experienced coach with over 1500 hours of coaching under his belt. He has been coaching for last 8 years and possesses an exceptional depth and breadth of coaching experience. He has coached Entrepreneurs, CXOs and top teams across a wide range of industries from chemicals to banking.
With his long career of 38 years in the corporate world in leadership positions, he has seen the challenges of the various situations. For 25 years he was MD/CEO in a leading business house (Piramal Group) in India. Working across diverse industries, he has extensive experience in turning around the loss-making companies and starting green field projects. He was also instrumental in setting up various joint ventures and entering into technical collaborations with Italian, German, French and Japanese companies. He lived in France for 6 months for technology transfer. Pramod believes that continuous training and coaching of young professionals contributed greatly to the success of his companies/projects.
Pramod is a Gold medallist in Engineering from IIT (Indian Institute of Technology). He is an PCC (Professional Certified Coach) certified by ICF (International Coach Federation), and has completed the Core Essential Graduate program by CoachU, and CEO Coach Accreditation Program of Coaching Foundation India, and has been designated "CEO Coach". Apart from his professional career he is also a keen sportsman and practices Yoga and Vipassana on a regular basis.