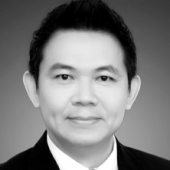 Michael graduated from the National University of Singapore (Bachelor of Arts) and earned a Master of Education in Continuing Education (Training and Development) from the University of Sheffield. He is an accredited coach with the International Coaches Federation (ICF) and the NeuroLeadership Institute. He is an accredited facilitator for MBTI, PAPI, SHL-OPQ, Hogan Assessment and Extended DISC.
Michael coaches a wide range of senior executives and leaders to help them make an impact in their professional and personal life. At the same time, he coaches leaders to build executive presence and increase political savviness to make positive changes in their careers.
Michael's background in the human resources function in the last 20 years and understanding of the business demands give him a practical and results-oriented approach in coaching clients. He has worked with executives across industries in manufacturing, FMCG, technology and financial services. Michael has coached small business owners to re-think their organizational goals in relation with their personal goals. He coached Senior Executives to review and strategise their career directions to find focus and energy in career advancement. At the same time, coaching new managers to transit from an individual contributor to leading teams has been a rewarding experience. He strongly believes that when executives realize their potential and purpose, it will ignite into maximum performance in both career and personal effectiveness.
At the same time, Michael leads and facilitate Leadership and Change Management programmes that helps leaders 'build' internal leaders as well as to manage change initiatives professionally.