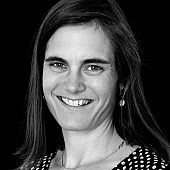 Hélène de Chanterac
Senior Executive Coach
Paris, France
Get in touch
A graduate of Sciences-Po Paris and the Collège de Bruges, Hélène has been working on transformation and leadership development projects in France and abroad for the last 17 years.
Initially a consultant in organization and change management in a consulting firm, she quickly specialized in projects within the public and social sectors. Hélène then worked on institutional support projects, as an expert for the European Union in Romania (2004), as a regional technical advisor for the Ministry of Foreign Affairs in the Middle East (2006-2008), and then as an advisor to the Government of Bahrain, to set up a support office for strategic programs to modernize the administration (2009). She then joined the Innovation and User Services Department of the DGME, then the SGMAP, to manage interministerial projects to improve public services, particularly in the fields of employment and career guidance, pensions, disability and senior citizens (2010-2016).
She is trained in individual and collective coaching to better support projects involving multiple stakeholder ecosystems. Hélène is a certified coach from the University of Paris VIII, trained in the systemic approach, cognitive and behavioral coaching, as well as the neurocognitive approach.