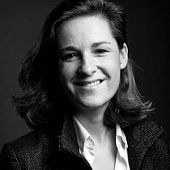 Nolwenn de La Brosse
Senior Executive Coach
Paris, France
Get in touch
After a career as an operational manager and then as a General Manager, Nolwenn became an executive coach to accompany leaders and develop their leadership and boost team performance. She enjoys encouraging people to develop their leadership, their talents and their projects.
While being a mother of 4 children, Nolwenn also develops innovative tools for managers and their teams focusing on the value of work-life balance, experienced as a real lever of motivation and performance.
She specializes in coaching executives and their managers in all stages of transformation: onboarding and transitioning into a new role, joining the Executive Committee, team development, change management.
Nolwenn started out in finance and continued her career in a high-end ready-to-wear company where she was a Sales Director and then General Manager.
Nolwenn de La Brosse is a certified Executive Coaching – HEC.