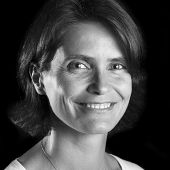 Mathilde Poirieux
Senior Executive Coach
Hong Kong
Get in touch
Mathilde is a Professional Certified Coach (PCC) credentialed by the International Coaching Federation. She is also an accredited Organizational Coach, Coaching Supervisor and Team Coach, and a trained Mentor Coach.
She coaches executives, entrepreneurs, leadership teams and people in career transition in a range of industries, including banking, luxury, professional services, transport and construction works. She draws on her corporate background in highly complex and competitive environments, her sharp reading of identity and personality, her strong focus on change as well as her expertise in organizational coaching and adult learning principles.
Her coaching approach is focusing on strengths to help people identify their inner strengths, and action them towards their desired goal. Her main focus is coaching seasoned professionals in their journey towards mature and aligned leadership, and through their key career transitions.
Before establishing as a coach, Mathilde was a Talent Development specialist within a Big Four company for 14+ years, where she led programs in Europe and Asia-Pacific. In this competitive business, she experienced the challenges of performing with cross-cultural teams and leading strategic long-term investments, such as high-potential selection and accelerated leadership skills development.
Mathilde has now a deep understanding of what forms a professional identity, the sources of tension, the impact of different coaching approaches styles, and how to define a signature leadership style based on a person's key strengths.
She is very committed to her self-development, and to contribute to further professionalize Coaching in Hong Kong and Asia. She therefore receives and provides Coaching Supervision on a regular basis. She involves in various projects such as research on coaching in Asia and community projects, and has been the President of ICF Chapter in Hong Kong since January 2019.
Based in Hong Kong since 2010, she can provide coaching in English and in French. Together with her husband and four children, she enjoys life in vibrant and profound Asia.