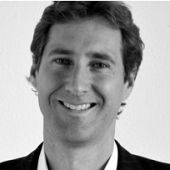 Mathieu Gerardin
Senior Executive Coach
Lisbon, Portugal
Get in touch
After 15 years of managing projects in different countries, Mathieu now lives in Lisbon and works with clients across Europe and Africa. He is fascinated by the coaching process, with a particular interest in helping leaders to crystallize their vision and flourish in their organisation.
Having explored the relations between mindfulness and leadership under the supervision of the Cambridge Well Being Institute, Mathieu also designs and facilitates mindfulness based programmes aiming at developing key leadership skills such as attention control and emotional regulation.
Mathieu started his career as an entrepreneur, founding a profitable Internet company in 1999. He then developed and managed projects in various industries, before joining EGEO, Portugal's leading environmental services group, where he became an Executive Director in charge of shared services – financial department, HR, IT, legal. In 2012, he started a coaching and mindfulness practice, while remaining on the board of EGEO as a Non-Executive Director.
A graduate of Centrale Paris (MSc) and Cambridge University (MBA, Judge Business School), he trained as a business coach with Meyler Campbell and is a mindfulness instructor (TTR1, Bangor University).