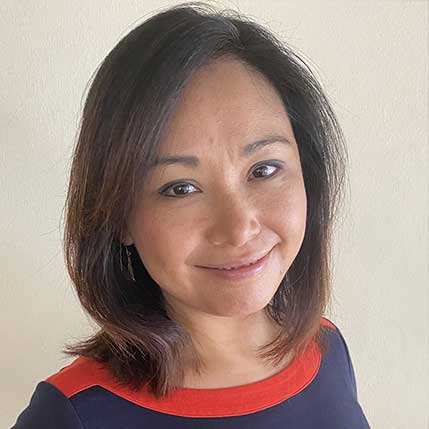 June
Davies
Senior Executive Coach
Singapour
Chinese
Get in touch
Coaching Experience
An ICF Certified coach since 2021
Specialized in Solution Focused coaching and Organization & Relationship Systems Coaching
10+ years of coaching individuals & teams
Professional background
Project Manager at Hay Group, London, England
Assistant Psychologist, National Health Service, England
Personal commitments
Head of Beavers Section of 2nd Singapore Scouting, British Scouting Overseas
ICF Volunteer Coach (Singapore Chapter)
Education
MSc in Occupational Psychology (University of London, U.K.)
BA Hons in Combined Studies- Psychology & Sociology (University of Leicester, U.K.)
June supports senior leaders and executives through building true connections and understanding with their teams. She navigates multi-layered concepts with practical application of coaching and tailored leadership training programs.  She has added significant value to her clients in areas of leading with emotional intelligence, working with cultural diversity and leading through transitions.
Every action you take is a vote for the type of person you wish to become.
Professional background
June began her career in the National Health Service, England, where she worked as an Assistant Psychologist to provide mental health interventions to service users. Her interest to work with systems sparked when she observed that intervention was much more impactful when the client's system was addressed, rather than looking solely at the individual. Subsequently, June studied her Masters of Science in Occupational Psychology and her Diploma in Systems Theory and Practice. This allowed her to work with organizations to address their concerns through a systemic lens.
In 2011, June complemented her training in Psychology with her first professional coaching certification with Coach U. This was the beginning of her coaching journey. She continued her coach training, specializing in the areas of Solution Focused coaching and Organization & Relationship Systems coaching.
Coaching expertise

June's background in Psychology, her professional coach training and her experience in both the corporate and public sectors have afforded her the privilege to work with clients from all walks of life. She always excelled in one area: the genuine belief in the strengths of her clients. Through this belief, June has developed a coaching style which is calming, strength focused, and solution focused. Her experience in the therapeutic setting built up a strong foundation for her to put her clients at ease, gain and maintain their trust and confidence, as well as supporting them to find the solution that works best for them.
What we say about June Davies at Turningpoint
June is a thoughtful and bright influence on those around her. She is fun-loving and always up for trying and learning something new. June is reliable in her calm and serene approach to life, friends and different situations and a joy to those around her.