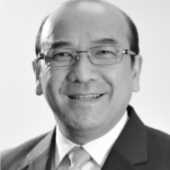 Jean Satrijo Tanudjojo
Senior Executive Coach
Paris, France / Singapore
Get in touch
Satrijo is currently active in coaching and leadership development in the international environment, as he has a deep conviction in talent development. He advises senior executives for the business in Asia Pacific, for Post Merger Integration, and for Change Management.
Satrijo has an expansive experience in the General Management and the Human Resources from his tenure with Schlumberger, Areva and Nexans. Having worked and lived in 9 countries across Pacific and Atlantic, Satrijo understands how to work and interact in different cultural settings.
Satrijo was the President & CEO of Nexans China & Japan (2009 – 2017), based in Shanghai. He was the Chairman of the Nexans companies in China. Satrijo worked for Areva T&D where he was the VP Human Resources for Sales, Marketing & Services based in Paris (2004 – 2006), after which he was appointed as the CEO of AREVA T&D China, based in Beijing (2006 – 2009). Prior to the Areva, Satrijo worked for Schlumberger (1983 – 2004) where he started as a field engineer in Australia and he climbed up to the leadership of the company where he was holding managerial position in the Human Resources, Strategy and General Management and an executive position in France as the post merger integration Project Director and in the Middle East as the VP & Managing Director of Schumberger Group in Iran.
Satrijo promotes sustainable development and business practices and is a board member of several charity and corporate governance organizations.
Satrijo holds a Doctorate degree in Knowledge Management from Cranfield University (UK), an MBA from ESSEC (France), and a Master of Geophysical Sciences from Gadjah Mada University (Indonesia). He is an alumnus of Columbia University (USA) from the Columbia Coaching Certification Program, and an alumnus of INSEAD (France) from the International Corporate Governance Program. He is a certified Project Management Professional.