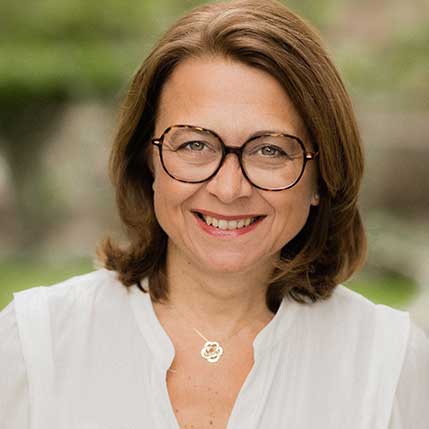 Diane de Cherisey
Senior Executive Coach & Facilitator
Paris, France
Get in touch
Diane helps leaders and their teams develop their potential at key moments in their career path or in the life of their organisation. She strives to create a space so they can take a step back, broaden self-awareness and expand leadership skills. They value her ability to create trustworthy interactions, understand complex challenges and foster change relying on their unique talents, resources and deep drivers.
Diane has 25+ year business and HR professional experience within blue chips companies both in banking and energy transition sector – Société Générale and Engie -. Her successive senior responsibilities in organisation & project, key client coverage and talent management, rapidly provided her with strategic and global exposure within the organisation. In the last 10 years, she has been actively involved in deep culture and leadership transformations combining HR top executive roles with the development of a coaching practice. This enthusiastic period reinforced her conviction that developing a « coaching culture » is a key lever for sustainable performance and led her to dedicate full time to supporting leaders and organisations as an executive coach.
Certified Coach since 2012, she first practiced within Société Générale during 6 years where she had the opportunity to deliver both individual and team coaching as well as group facilitation in very diverse environments. Her coaching activities often deal with posture change : transition from manager to leader, growing towards more strategic, more authentic, more engaging leadership among others. She strives to find the most relevant balance between analytic and sensitive approach adapting to her clients. She uses different reference methodologies (transactional analysis, Gestalt, systemic coaching) and likes making connections to alternative disciplines -philosophy, sociology, music- enriching her approach.
Diane graduated from HEC Paris in 1993. She is certified Transformance Coach & Team program (V. Lenhardt – 2012), and certified in Hogan Personality Assessment (2020).