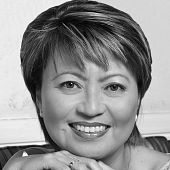 Christina Khoo
Senior Executive Coach
Singapore
Get in touch
Christina is a leadership and executive coach who works with individuals and teams seeking to create sustainable change by employing a brain-based approach to her coaching. Her diverse clientele ranges from marketing executives looking to raise their performance to senior managers and executives seeking to become better and more effective leaders, while maintaining a healthy work-life balance. Her belief in the inexhaustible human potential in people fuels her quest to provide inspirational messages, structures and systems to facilitate self- discovery and greater achievements in her clients.
She comes with a background of 25 years in the financial services industry where she honed her skills as a respected leader, coach and motivator to thousands of consultants. A great communicator, her engaging presentations have made her a well sought-after speaker and trainer in the industry. She has graced many platforms and training events both locally and internationally over the past 20 years, addressing audiences on a range of topics from sales & marketing, to leadership and management and personal & professional effectiveness.
Christina is a Professional Results Certified Coach and is a member of the International Coaching Federation. She holds a post-graduate certificate in the NeuroScience of Leadership (Middlesex University) and is also an accredited facilitator and trainer of the Extended DISC and EQi 2.0 and EQ360 systems.