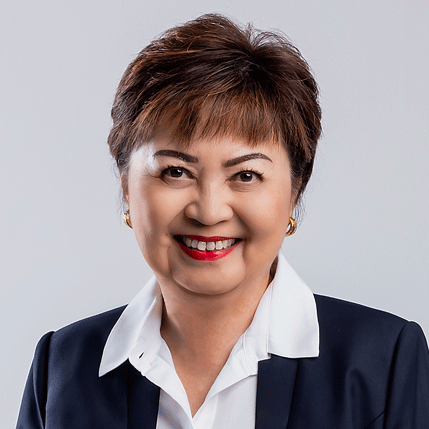 Christina
Khoo
Managing Director Turningpoint Asia, Senior Executive Coach
Singapore
Get in touch
Coaching Experience
Coach ICF certified by NLG (2014)
Designing, managing and coordinating development programs
Professional background
Managing Director, Christina Khoo Consultancy Ltd
Agency Director – SP Prime & Assoc (AIA)
Education
American College- CLU & ChFC, USA
Middlesex U – Post-Grad Neuroscience of Leadership, UK
Latests insights
Christina's believes in the inexhaustible potential in all individuals. This conviction fuels her quest to provide inspirational messages, structures and systems facilitating discovery and greater achievements in her clients both personally, professionally, and within teams.
The illiterate of the 21st century will not be those who cannot read or write, but those who cannot learn, unlearn and relearn.

Professional background
Christina comes with a background of 25 years in the financial services industry where she honed her skills as a respected leader, coach and motivator to thousands of consultants.  A great communicator, her engaging presentations have made her a well sought-after speaker and trainer in the industry.  She has graced many platforms and training events both locally and internationally, addressing audiences on a range of topics from sales & marketing, to leadership and management and personal & professional effectiveness.
Deciding to retire from "hard work" to do "heart work", she stumbled into the world of coaching, specifically, brain-based coaching.  Not only did she commit herself fully to get certified as a professional coach, she also went on to train and mentor coaches.
Coaching expertise
For over a decade now, Christina is most passionate about providing Executive and Leadership coaching.  She works with a number of international clients present in Singapore and around the region, providing individual Executive and Group Coaching.  Her diverse clientele includes executives aspiring to become the best versions of themselves, to senior leaders seeking to become more effective and inspiring leaders.  Christina's driving purpose is "touching lives where it counts!".
What we say about Christina Khoo at Turningpoint
Someone who is energetic and inspirational.  Always curious and a life-long learner.  Compassionate and kind.  Tries to live life to the fullest… and embraces a 'One Life to Live' philosophy