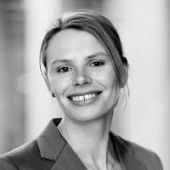 Beate Schulze
Senior Executive Coach
Geneva, Zurich, Switzerland
Get in touch
Beate is an executive coach serving clients across Europe to discover resources and create value. She has experience in both the public and private sector – from accompanying thriving start-ups in their growth phase through training all leaders of an insurance company in healthy leadership, to coaching the Emergency Medical Services, Police and Fire Brigades of Zurich on stress management.
As a coach, she combines strength-based, solution-focused approaches with the sharp analytical eye of the systemic perspective. A vivid observer of trends in a fast-changing society and firm believer in the human influence in system dynamics, Beate supports leaders and organizations to come up with adaptive responses and use the challenges they are facing to the benefit of their business and their people. She helps clients to focus on the essential, to approach uncertainty with ease and resolve, to prosper through cooperation, and to bounce forward after crisis.
Prior to becoming a coach, Beate has a corporate background in HR, accompanying a global change project in the telecom business as well as coaching the VP HR and business units on questions of motivation and wellbeing. Heading the Zurich Empowerment Programme at the University of Zurich and being vice-president of the Swiss Expert Network on Burnout, she studied resources and stressors in the workplace and developed strategies to prevent de-motivation and exhaustion. Beate also coordinated a European flagship project on diversity in hospitals and healthcare, initiating a culture change and building cultural competency in a network of pilot hospitals in 12 countries.
Beate is a certified appreciative inquiry practitioner (ICF) and online coach (IAP Zurich). Her coaching training is truly international and includes coaching in leadership and healthcare (Harvard Medical School), change management, conflict resolution and New Work (ISI Zurich), organizational resilience (Trigon Salzburg), mindful leadership and emotional intelligence (SIY Leadership Institute), as well as participatory leadership and collective intelligence (Art of Hosting). She is a sociologist, psychologist and economist and holds a PhD in Social and Occupational Medicine from the University of Leipzig.