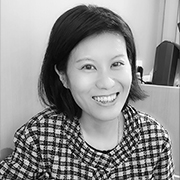 Connie Tsui-Burchfield
Senior Executive Coach & Facilitatrice
Hong Kong
Prendre contact
Based in Hong Kong, Connie works with clients locally and internationally to develop leaders at all levels via assessments, coaching and facilitation. Passionate about organizational behaviors, she strongly advocates for hybrid learning, helping individuals achieve personal and professional success. Her depth of knowledge in leadership development, coaching, employee counseling, talent management and organizational change enables her to resonate with clients and devise targeted, impactful solutions. 
Connie has had the privilege to work with clients across industries: Luxury and Retail, Banking and Finance, Technology, Pharmaceutical, and Energy and Infrastructure.
Characterized by her acute observation and versatility, Connie enjoys designing agile frameworks that enable employees' discovery and commitment through deeper dialogue. Since 2015, Connie has facilitated over a hundred group sessions with corporate clients as well as NGOs. Prior to becoming a coach, she was the Practice Leader of Leadership & Talent at Hay Group from 2012 to early 2015. From 2007 to 2012, Connie had dual roles at Adecco Group – she was Director for Adecco Human Capital Solutions, as well as Strategy Director for Lee Hecht Harrison the consulting arm of Adecco, where she was also responsible for profit and loss operations in the Greater China area. Connie adopts a collaborative coaching style with focus on professional impact. She is particularly skilled at behavioral change, turnaround, transition and   transformational coaching. Her recent work has involved helping individuals build executive presence, personal resilience, communicating with impact, influence across remote teams, and other skills. 
Connie has a B.A. in Administrative and Information Studies from The University of Western Ontario, an MBA from Hong Kong Baptist University, and Post-graduate Executive Education from Harvard Business School. She is also certified in Executive Coaching, General Counseling, Neuro-Linguistic Programming, Hypnosis and SCRUM and a number of assessment tools. 
Volunteer work has always been important to Connie. In recent years, she has been active in community work that aims to rebuild relationships and resources sharing.