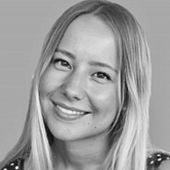 To try and fail is at least to learn; to fail to try is to suffer the inestimable loss of what might have been.
En complément de son rôle comme chef de projet pour Turningpoint, Sophie prépare actuellement un Master en Administration des Affaires et en Psychologie à la Copenhague Business School.
Sophie a grandi au Danemark et vit, travaille et étudie à Londres depuis plus de trois ans. Elle a toujours eu un immense intérêt et une passion pour le bien-être des personnes, le changement positif et le bon leadership. Elle est titulaire d'une licence en administration des affaires et en psychologie. Son parcours l'a préparée à s'adapter à de nouveaux environnements. Elle a acquis une grande expérience dans le secteur des services, ce qui lui a permis de développer ses compétences en matière de relations humaines et de collaboration.
En tant que Project Executive, Sophie participe à la coordination des programmes des clients, ainsi qu'à la communication interne au sein de l'équipe de Londres.