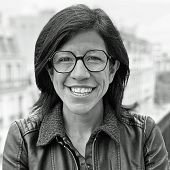 Laetitia Adhémar
Senior Executive Coach
Paris, France
Get in touch
Laetitia is a coach with extensive CSR (Corporate Social Responsibility) and Public Affairs expertise.
Before becoming a coach, Laetitia spent more than 12 years working in international environments. At Renault Public Affairs Department in Brussels she dealt with climate and environmental issues. She also defended the interests of the car sector in Free Trade Agreement negotiations with Colombia as well as in contexts such as the Copenhagen Summit to promote the Electric Vehicle. She also worked at the Alliance Renault-Nissan CEO-Office. She then joined Altavia as Chief of Staff to the CEO. Altavia is the leading independent international group specializing in commercial communication for the retail sector. She launched the CSR department and ran it for four years, managing a strong CSR network and launching two sustainable brands: Ecopublishing ® and Positive Sourcing. More recently she worked as an independent creating CITIZENS, a consultancy focusing on CSR & Public Affairs for common good.
Laetitia holds both an MSc from the London School of Economics (LSE) and one from Sciences-Po Paris, where she has been teaching Sustainable Public Affairs for eight years. She is certified by the l'Académie du Coaching in Paris.