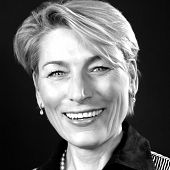 Frédérique Deschamps
Senior Executive Coach
Geneva, Switzerland
Get in touch
Frédérique helps executives and leaders communicate more effectively, build trust, deal with cultural differences, navigate transitions and improve personal and team effectiveness.
Since 2003, Frédérique has coached more than 900 leaders (individuals and teams) from a wide range of sectors including finance, FMCG (fast moving consumer goods), distribution, public sector, pharmaceutical, insurances, NGOs and non-profits, sports, the Swiss army, public health, private clinics, start ups, media and telecom. She is also a lecturer for Executive Education at HEC Lausanne.
Before becoming a coach, Frédérique worked for 15 years in management positions for companies with international cultures (Swiss, American and French). She led multicultural teams in 50 countries.
Frédérique graduated from the Université de Technologie de Compiègne with a Master's degree in Engineering. She also holds a Master's degree in Leadership and Coaching from the IDC institute in Geneva, is certified in various psychometric assessment instruments and has advanced training in several types of coaching (neuroscience, body, emotional intelligence, appreciative coaching…).
Frédérique was a competitive swimmer at a national level for 7 years.