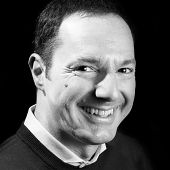 Enrico Illuminati
Senior Executive Coach
Milano, Italia
Contatto
Executive Coach con credenziale PCC dell'International Coach Federation , da sempre interessato al benessere individuale ed organizzativo, consolida dal 2001 una consistente esperienza come Executive Coach, Trainer e Facilitatore.
Si dedica allo sviluppo di programmi di training avanzato dedicati alla Leadership, Team Working, Change Management per Aziende medie, grandi e Multinazionali ed a percorsi di Executive Coaching e Team Coaching per Top Manager e C-level.
Laureato in Medicina e Chirurgia, è esperto di Intelligenza Emotiva, formato in I.E. presso l'Università Cattolica del Sacro Cuore di Milano e l'Università di Siena, si è inoltre specializzato in UK con i Training di Ripple Leadership e JCA Occupational Psycholgists acquisendo la Certificazione per il tool di misurazione dell'Intelligenza Emotiva Individual Effectiveness/Emotional Intelligence Profile e Team Effectiveness. E' inoltre Voice Dialogue Facilitator.
E' stato Presidente Eletto 2013 e Presidente 2014 di ICF Italia, Charter Chapter dell'International Coach Federation (la prima e più importante associazione di Coach Professionisti del Mondo con più di 30.000 membri a livello globale). E' un apprezzato Speaker a livello internazionale, nel 2015 ha riscosso molto successo il suo speech ad Helsinki –Finlandia- dal titolo "Why and how Coaching works: philosophy, anthropology and neurophysiology of Coaching" in occasione del ICF on Tour EMEA 2015 che si è svolto in 23 differenti paesi. E' Direttore e Docente del Corso «Business & Corporate Coaching Training». E' Co-autore del Libro "Il Coaching per te" venduto in più di 10.000 copie in Italia.