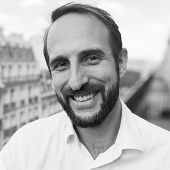 Edouard de Frescheville
Senior Executive Coach
Paris, France
Get in touch
Edouard is dedicated to supporting leaders and teams which are going through complex transformations, and brings his wide expertise as an executive coach, consultant and manager.
He has lead many interim management missions in various business environments, where he deployed his « rescue consulting » skills, aiming at making a fast, tangible and sustainable impact on high-stakes challenges in strategy, operations or organization.
After having managed the General Electric / Alstom integration in Renewables, he built the Marketing team and led the Business Unit through a deep pivotal change in culture and operations, from Product Push to Customer Pull.
He also worked at the Société Générale bank as an Investment Banker, where he contributed to numerous Mergers & Acquisitions with a focus on Industry, Energy and Transport.
Edouard holds a Master's degree from SupAéro, majoring in Engineering, Applied Mathematics and Large Project Management and is certified from the Académie du Coaching. Edouard also holds a Bachelor's degree in Magic.