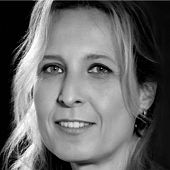 Anna Ghiotti
Senior Executive Coach
Torino, Italy
Get in touch
Anna is a Professional Certified Coach (PCC) accredited by the International Coach Federation. Her approach is based on the Transformational Ontological Coaching whose theoretical foundations are constructivist philosophy, systemic thinking and the philosophy of language. Transformational Ontological Coaching develops a model of leadership based on trust and commitment generated through a conscious use of linguistic acts. It offers a new way of observing the reality and learning of powerful conversations that expand the field of possibilities and allow the achievement of extra-ordinary goals.
Since 2007 she has been a educator in basic and advanced training courses for Professional Coaches and workshops on Authentic Leadership and Team Development through the creation of shared visions. For over a decade, she has been  accompanying managers in their individual development as well as their teams', notably within the non-profit sector.
She went to law school before becoming freelance, working for 16 years in manufacturing and services companies as a Human Resources Manager. After receiving her certification in Executive Coaching, she was driven do deepen her knowledge within several fields, such as Team Coach, S.F.E.R.A. Coaching, Coaching Supervision, Shadow Coaching. She is also Voice Dialogue Facilitator and certified in Expert Facilitation.